VFX Institute In Chandigarh – Are you passionate about creating stunning 3D animations and mind-blowing visual effects? If so, you've come to the right place! Digital Graduates is the best 3D animation and VFX training institute in Chandigarh, dedicated to empowering aspiring artists with the skills and knowledge required to thrive in the competitive animation industry. With our cutting-edge courses, experienced instructors, and hands-on approach, we provide a nurturing environment for students to develop their artistic talents and turn their dreams into reality. Join us on this exhilarating journey as we explore the remarkable opportunities awaiting you at Digital Graduates!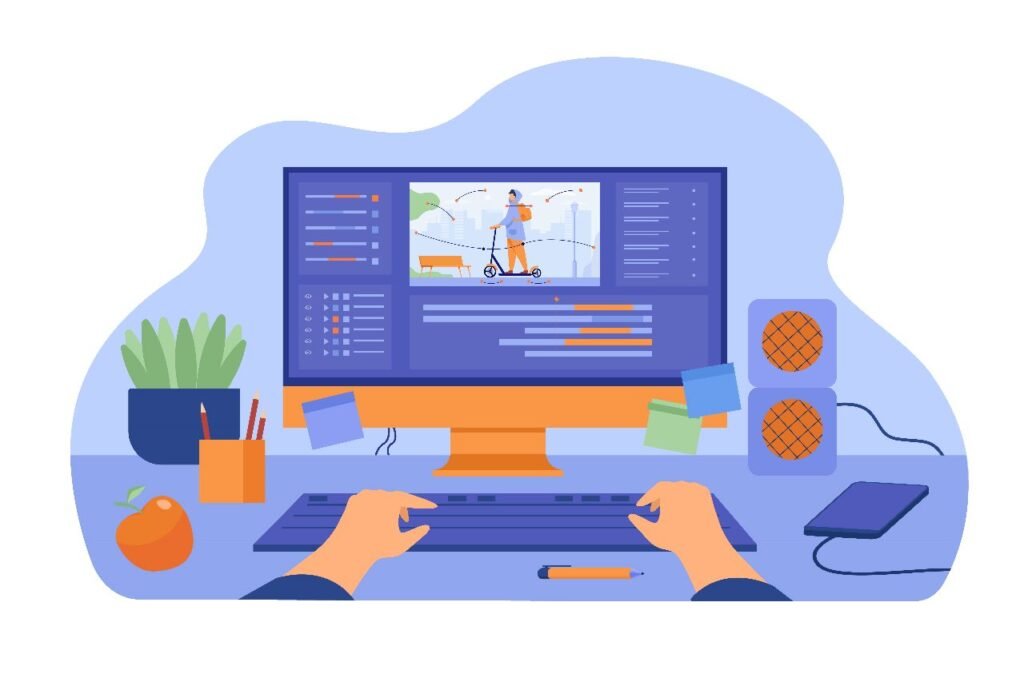 Unleash Your Creativity with VFX Institute In Chandigarh – Digital Graduates
Master the Art of 3D Animation
At Digital Graduates, we believe that 3D animation is not just about manipulating software tools; it's an art form that requires a deep understanding of storytelling, character development, and visual aesthetics. Our specialized courses cover a wide range of topics, including character animation, motion graphics, and special effects. With a focus on industry-standard software like Maya and Blender, our expert instructors will guide you through the intricacies of 3D animation, equipping you with the skills needed to bring your imagination to life.
Dive into the World of Visual Effects
Visual effects play a crucial role in modern filmmaking, commercials, and gaming industries. At Digital Graduates, we offer comprehensive training in VFX, enabling you to create stunning and realistic visual effects that captivate audiences. Our curriculum covers topics such as compositing, particle simulation, matchmoving, and more. With access to industry-standard software like Nuke and After Effects, you'll learn the latest techniques and workflows used by professionals in the field.
Experience our State-of-the-Art Facilities
As the premier 3D animation and VFX institute in Chandigarh, Digital Graduates is equipped with state-of-the-art facilities to enhance your learning experience. Our dedicated classrooms are equipped with high-performance computers and industry-standard software, ensuring that you have access to the tools necessary for honing your skills. Additionally, our specialized labs provide hands-on training opportunities, allowing you to apply what you've learned in a practical setting.
Why Choose Digital Graduates For VFX Training Institute In Chandigarh?
Expert Instructors with Industry Experience
At Digital Graduates, we understand the importance of learning from industry professionals. Our instructors are seasoned experts in the field of 3D animation and VFX, with years of practical experience working on major projects. VFX Institute In Chandigarh They bring a wealth of knowledge and insights to the classroom, offering invaluable guidance and mentorship as you embark on your journey towards becoming a skilled animator or VFX artist.
Comprehensive and Industry-Driven Curriculum
Our curriculum is carefully crafted to meet the demands of the animation and VFX industry. We constantly update our courses to reflect the latest trends and technologies, ensuring that you're equipped with the skills employers seek. From foundational principles to advanced techniques, our comprehensive programs cover all aspects of 3D animation and VFX Institute In Chandigarh , giving you a well-rounded education that prepares you for real-world challenges.
Hands-On Training and Project-Based Learning
At Digital Graduates is the best VFX Institute In Chandigarh, we believe that learning by doing is the most effective way to acquire new skills. That's why we emphasize hands-on training and project-based learning throughout our courses. You'll have ample opportunities to work on practical assignments, collaborate with fellow students, and build an impressive portfolio that showcases your abilities. Our supportive and nurturing environment encourages creativity and fosters a sense of camaraderie among students.
Industry Connections and Placement Assistance
As part of our commitment to your success, Digital Graduates maintains strong connections with leading studios and production houses in the animation and VFX industry. We provide guidance and support in job placement, connecting you with potential employers and helping you kickstart your career. Our alumni network is extensive, and many of our graduates have gone on to work on blockbuster movies, TV shows, and AAA game titles.
Syllabus of Animation & VFX Course
Introduction to Animation and VFX
Understanding the basics of animation and VFX
Exploring the history and evolution of animation
Introduction to the different types of animation techniques
Overview of the VFX industry and its applications
Fundamentals of 3D Animation
Principles of animation: timing, spacing, squash and stretch, anticipation, etc.
Understanding keyframes and the animation timeline
Introduction to 3D modeling and character rigging
Creating realistic movements and expressions
Character Animation
Anatomy and proportions of characters
Principles of character animation
Body mechanics and weight distribution
Lip-syncing and facial expressions
Emotion and storytelling through animation
Motion Graphics and Special Effects
Introduction to motion graphics and its applications
Creating dynamic title sequences and visual effects
Exploring particle systems and simulations
Incorporating special effects into live-action footage
Compositing and Visual Effects
Understanding the compositing process
Layering elements and integrating CGI into live-action footage
Matte painting and set extensions
Green screen techniques and chroma keying
Color correction and grading
Advanced 3D Modeling and Texturing
Advanced modeling techniques for organic and inorganic objects
UV mapping and texturing
Creating realistic materials and shaders
Introduction to procedural modeling
Sculpting and detailing high-resolution models
Lighting and Rendering
Principles of lighting in 3D environments
Different types of lighting setups and their effects
Global illumination and image-based lighting
Rendering techniques and optimization
Rendering for animation and VFX projects
Post-Production and Editing
Overview of the post-production workflow
Editing techniques and storytelling through editing
Sound design and audio integration
Finalizing and exporting projects for various platforms
Industry Software and Tools
Introduction to industry-standard software such as Maya, Blender, Nuke, After Effects, etc.
Understanding the interface and basic tools of each software
Hands-on exercises and projects using the software
Portfolio Development
Creating a professional demo reel and portfolio
Showcasing your best work and highlighting your skills
Tips for presenting your portfolio to potential employers
Getting feedback and continuously improving your portfolio
Industry Trends and Career Guidance
Staying updated with the latest trends and technologies in animation and VFX
Networking opportunities and industry connections
Career paths in the animation and VFX industry
Job search strategies and interview preparation
Note: The above syllabus is a general outline and may vary depending on the specific course and institute. It is advisable to refer to the detailed syllabus provided by Digital Graduates for a comprehensive understanding of the course structure.
Top FAQs
Q: Is prior experience necessary to enrol in Digital Graduates' For Best Animation courses in Chandigarh?
No, prior experience is not required to join our courses. We offer programs suitable for beginners as well as those with some background in animation or VFX. Our instructors will assess your skill level and guide you accordingly.
Q: What software will I learn during the VFX, Animation training?
At Digital Graduates, we focus on industry-standard software such as Maya, Blender, Nuke, and After Effects. These tools are widely used in the animation and VFX industry, and learning them will give you a competitive edge.
Q: How long does it take to complete a Animation course at Digital Graduates?
The duration of our courses varies depending on the program. We offer both short-term intensive courses and longer-term diploma programs. Please refer to our website or contact our admissions team for specific information on course durations.
Q: Will I receive a certificate upon completion of the Animation course?
Yes, upon successful completion of your chosen program, you will receive a certificate from Digital Graduates. This certificate will serve as a testament to your skills and can bolster your credentials when applying for jobs in the industry.
Q: Are there any job placement opportunities after completing the Advanced Animation course?
Digital Graduates provides placement assistance to its students. We have a dedicated placement cell that works closely with industry professionals to connect our graduates with potential job opportunities. While we cannot guarantee employment, we strive to support and guide our students in their job search.
Q: Can I visit Digital Graduates' campus before enrolling?
Certainly! We encourage prospective students to visit our campus and interact with our faculty and staff. You can schedule a campus tour and get a firsthand experience of our facilities and teaching methodology. Contact our admissions team to arrange a visit.
Conclusion
If you're ready to embark on an exciting journey with into the world of Best 3D animation and VFX, look no further than Digital Graduates. As the best 3D animation and VFX training institute in Chandigarh, we are committed to providing you with a comprehensive education that equips you with the skills, knowledge, and industry connections necessary for success. Join us at Digital Graduates and unlock your creative potential today!
Follow Us On – Facebook