Welcome to Digital Graduates, the best place to receive top-notch SEO training in Chandigarh. In today's digital age, having a strong online presence is crucial for businesses to thrive. And what better way to achieve that than by mastering the art of search engine optimization (SEO)? In this comprehensive guide, we will explore the ins and outs of SEO, its importance, and how Digital Graduates can provide you with the best SEO training in Chandigarh. Before we delve into the details of our training program, let's start with the basics. SEO stands for search engine optimization. It is the practice of optimizing a website to improve its visibility on search engine result pages (SERPs). By implementing various strategies and techniques, SEO helps websites rank higher and attract organic traffic. Choose SEO Course In Chandigarh
Why is SEO important? Get Best SEO Training In Chandigarh
In today's highly competitive digital landscape, having a well-optimized website is essential for businesses. Here are some reasons why SEO is crucial:
Increased visibility: SEO helps your website rank higher on search engines, making it more visible to potential customers.
Targeted traffic: By optimizing your website for relevant keywords, you can attract high-quality, targeted traffic that is more likely to convert.
Brand credibility: A website that appears on the first page of search results is often perceived as more trustworthy and credible.
Cost-effective: Compared to other digital marketing strategies, SEO offers a high return on investment (ROI) as it targets users actively searching for your products or services.
The Digital Graduates Advantage – SEO Training in Chandigarh
Now that we understand the importance of SEO, let's explore why Digital Graduates is the best choice for SEO Training institute in Chandigarh. Here's what sets us apart:
Expert trainers: Our team of experienced SEO professionals will guide you through every aspect of SEO, sharing their industry knowledge and best practices.
Comprehensive curriculum: Our training program covers all the essential elements of SEO, including keyword research, on-page optimization, link building, technical SEO, and more.
Hands-on approach: At Digital Graduates, we believe in learning by doing. Our training includes practical exercises and real-world case studies to ensure you gain practical skills.
Latest tools and techniques: We stay up-to-date with the ever-changing SEO landscape, equipping you with the latest tools and techniques to stay ahead of the competition.
Flexible learning options: Whether you prefer classroom-based training or online sessions, we offer flexible learning options to suit your schedule and preferences.
Get Full Digital Marketing Course – Best Digital Marketing Institute In Chandigarh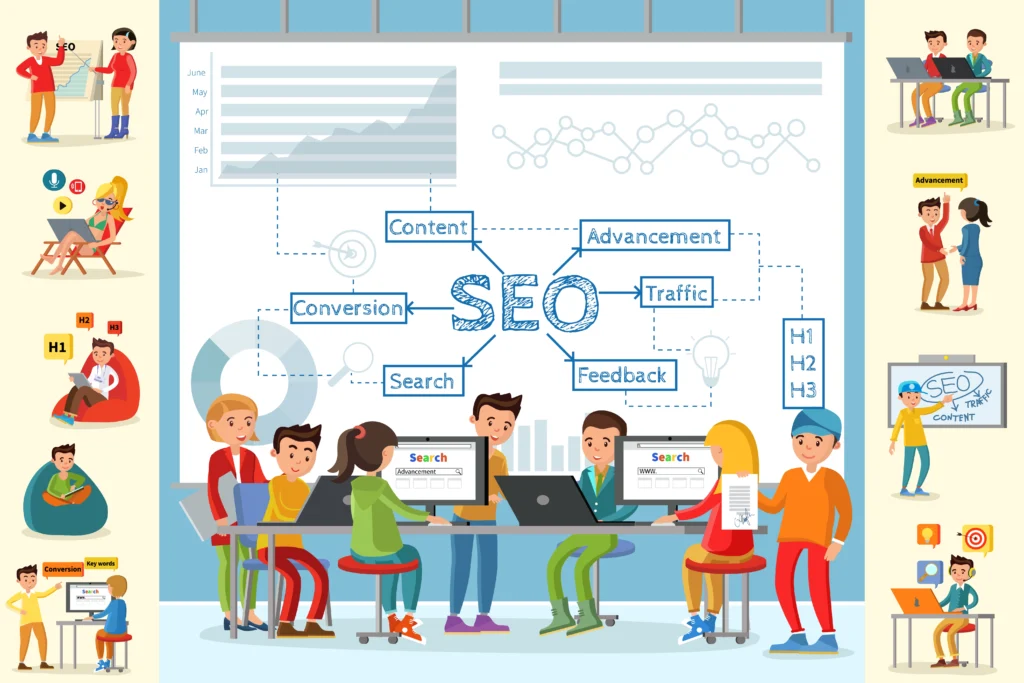 Syllabus Of SEO Course – Digital Graduates
Introduction to SEO
Understanding the basics of SEO
Importance of SEO in digital marketing
Evolution of search engines and SEO practices
Overview of on-page and off-page optimization
Keyword Research and Analysis
Importance of keywords in SEO
Tools for keyword research and analysis
Identifying relevant and high-traffic keywords
Long-tail keywords and their significance
On-Page Optimization
HTML tags and their role in on-page SEO
Optimizing meta tags (title, description, keywords)
Creating SEO-friendly URLs
Optimizing header tags (H1, H2, H3)
Keyword placement and density
Image optimization and alt tags
Internal linking and site structure
Technical SEO
Importance of technical SEO in website performance
Understanding website architecture and navigation
URL structure and redirects
XML sitemaps and robots.txt
Website speed optimization
Mobile optimization and responsive design
Off-Page Optimization
Introduction to off-page SEO
Building high-quality backlinks
Guest blogging and content outreach
Social media signals and their impact on SEO
Online reputation management
Local SEO and citation building
SEO Content Writing
Creating SEO-friendly content
Keyword research for content creation
Writing engaging and optimized blog posts
Incorporating keywords naturally
Importance of unique and valuable content
Optimizing content for readability and user experience
Local SEO Training
Understanding the importance of local SEO
Google My Business optimization
Local citation building
Customer reviews and ratings
NAP consistency and local directories
Targeting local keywords and location-based optimization
SEO Analytics and Reporting
Introduction to SEO analytics tools
Tracking website traffic and user behavior
Analyzing keyword rankings and organic search performance
Monitoring backlinks and referral traffic
Creating comprehensive SEO reports
SEO Trends and Updates
Staying up-to-date with the latest SEO trends
Understanding algorithm updates (Google, Bing)
Voice search optimization
Mobile-first indexing
Featured snippets and structured data
Emerging trends in local and international SEO
SEO Audit and Website Analysis
Conducting a comprehensive SEO audit
Identifying website issues and areas for improvement
Analyzing competitors' SEO strategies
Creating an action plan for website optimization
FAQs About Best SEO Training In Chandigarh – Digital Graduates
Q: Who can benefit from the best SEO training in Chandigarh?

A: Our SEO training is ideal for aspiring digital marketers, entrepreneurs, business owners, web developers, and anyone interested in enhancing their online visibility.

Q: Do I need any prior experience or technical knowledge?

A: No prior experience or technical knowledge is required. Our training program is designed to cater to beginners as well as individuals with some background in digital marketing.

Q: What is the duration of the SEO training program?

A: The duration of the program varies based on the chosen course. We offer both short-term and long-term training programs to accommodate different learning needs.

Q: Will I receive a certification upon completion of the SEO training?

A: Yes, upon successful completion of the SEO training program, you will be awarded a certificate from Digital Graduates, validating your skills and knowledge.

Q: Can I apply the SEO techniques learned to my own website or business?

A: Absolutely! The SEO techniques and strategies you learn during our training program can be directly applied to your own website or business. Our goal is to empower you with the knowledge and skills to optimize your online presence effectively.

Q: Will I receive ongoing support after completing the training?

A: Yes, we believe in providing continuous support to our students. After completing the training, you will have access to our community forums and resources to seek guidance and stay updated with the latest SEO trends.

Q: What sets Digital Graduates apart from other SEO training institutes in Chandigarh?

A: Digital Graduates takes pride in its comprehensive curriculum, expert trainers, practical approach, and personalized attention to each student. We prioritize your learning journey and ensure you receive the best education and support.

Q: Are there any job placement opportunities after completing the SEO training?

A: While we do not guarantee job placements, we do assist our students in exploring job opportunities in the industry. Our training equips you with the necessary skills sought after by employers, increasing your chances of securing employment.

Q: Can I pursue SEO training alongside my current job or studies?

A: Yes, our flexible learning options allow you to balance your SEO training with your existing commitments. We offer both weekday and weekend batches, as well as online sessions, to accommodate diverse schedules.

Q: How do I enrol in the best SEO training in Chandigarh – Digital Graduates?

A: Enrolling in our SEO training program is easy. Simply visit our website, navigate to the enrolment page, and follow the instructions provided. Our team will guide you through the process and answer any further queries you may have.
Conclusion
The SEO Training in Chandigarh at Digital Graduates covers a wide range of topics to equip you with the knowledge and skills required to excel in the field of search engine optimization. From understanding the fundamentals of SEO to implementing advanced strategies, you will gain a comprehensive understanding of how to optimize websites for better visibility and organic traffic. Enroll in the SEO course at Digital Graduates and embark on a journey towards becoming an SEO expert.